JARED OWEN SAM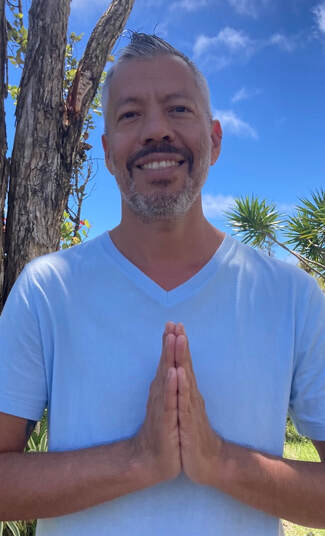 Jared
is a wisdom-seeking yogi, and adventurer based on the Big Island of Hawaii. He is known for his sweet spirit and soothing guidance on the mat, and offers grounding and energizing flow sequencing in his current vinyasa (slow flow) and yin yoga offerings, as well as in the occasional yoga + adventure retreats.
Jared is co-creator of
Hawaii Full Moon Yoga
and
Hawaii Blue Hands
Retreats, and brings over 20 years of teaching experience to assist in peaceful yoga gatherings that feature intuitive body movement with delicious, organic meals and favorite island spot excursions. Since 2003, he has facilitated friendships and community through a variety of yoga and adventure
retreats, and approaches the honor of being a yoga guide with care and gratitude.
In his free time Jared may be on the beach, practicing yoga with friends, playing with his two rescue kittens-cats, and/or exploring the island with his partner Dennis.